We have been working with a few young men from a desperately poor township. They have a strong desire to work hard. Given the rate of unemployment in Zambia of over 85 percent, stable opportunities to earn a living are difficult to come by.  The ability of these young men to transport goods has opened many new job possibilities. Some of them have become serious about starting small businesses. Aside form doing "piece work" they are now connecting farms to markets, providing transport services within the nearby city, or becoming vendors.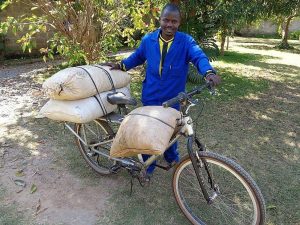 Taking the initiative is often problematic, particularly without tools or a clear path forward. However, the cargo-bike has provided a platform for them to maximize the value of their time. Quite literally it has been opening doors for these young men and helping them to be much more positive about their futures.
Opportunity Through Mobility
We are encouraged by them. Their progress has resulted in new ways of thinking and a desire to learn business skills. Certainly these young men possess a greater ability to take the initiative. They are becoming more proactive about tomorrow.